Think you know Microsoft Office 365? Think again
The more we have talked with businesses about Office 365 we have realised that many are not sure how it works, how best to deploy it and what you get with a subscription – even those already using it. With Microsoft continually adding more services, products and tools to Office 365 it can get a little bit overwhelming. To help you get your head round it all and uncover powerful tools to help your business thrive, we have put together this handy guide.
Our helpful guide to what's in Office 365 Business Premium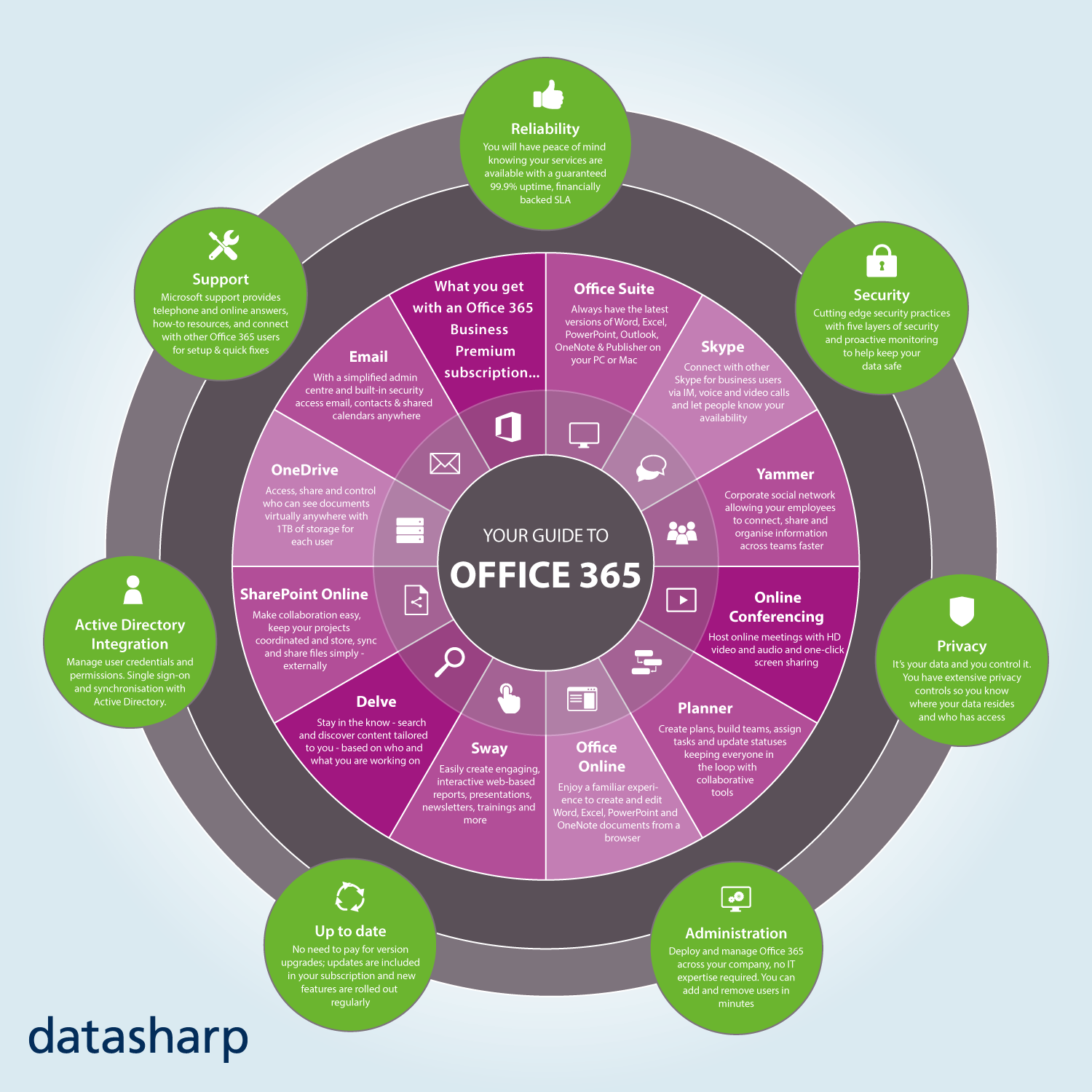 7 Tips to make the most of Office 365
If you have decided to migrate over to Microsoft Office 365 you will be looking to get the most from all its tools and features to enhance productivity, efficiency and accessibility. Here's our top 7 tips we think are key to making sure Office 365 make a positive impact on your business.
Tip One: Get everyone on-board

To maximise productivity on Office 365 you need every employee to adopt and utilise it. Train your employees on all the ins and outs to optimise using Microsoft's support portal, where you'll find a goldmine of useful tips and easy to understand training resources to help you optimise your use of apps and get the best from Office 365 – videos, webinars and manuals

Tip Two: Collaborate and edit with multiple people on the same document at the same time

Office Online allows everyone in your team to edit or contribute to a document at the same time in Word, Excel or PowerPoint, wherever they are. This is a great feature as you can see in real-time the changes being made and who by.

Tip Three: Seamlessly work together with Skype Document Chat

Use document chat to communicate with team members whilst review and / or editing in Office Online. This feature enhances the co-authorship experience and you will also be able to carry on the conversation in Skype once exiting the document.

Tip Four: Use OneDrive to access two cloud storage on your Android device

The OneDrive app for Android devices lets you use both your corporate and personal Microsoft cloud storage accounts in one secure place – just toggle between them. You can browse, share and delete files.

Tip Five: De-clutter your inbox

To help with spam emails Outlook now has a feature called Clutter. Clutter learns from your actions and habits to determine which emails are important to you and which are not, so you can focus your attention immediately. The ones considered unimportant will be moved to the clutter folder for you to read or delete later.

Tip Six: Create an engaging presentation across any device

Sway is an app that makes it easier and quicker to create and share interactive reports, presentations, newsletters and more. Add your content and Sway searches a variety of channels to help you find relevant content – videos, images, tweets, etc that you can drag and drop into your document.

Tip Seven: Scribble down your great ideas

OneNote is useful for taking notes and planning projects allowing you to type, write and draw. It will take your handwritten notes and convert them into types text and turn your to-do lists into Outlook tasks with deadlines and reminders on your calendar.