Windows 10 Technical Preview
"Something Old, Something New, Something Borrowed and Something Blue"
On September 30th, Microsoft announced Windows 10 and showed what it believes to be the natural evolution of Windows, materialising consumer feedback and improving upon some of its existing technologies, as well as implementing some new features that have been seen in other Operating Systems but absent from Windows…until now.
Hang on, where was Windows 9, or did I miss it?
Don't fret, you're not seeing things, going mad or completely missed a generation of Windows! There are lots of rumours about the skipping of 9, some revolving around code execution that means applications may confuse it with Windows 95/98 and others that seem to think that 8.1 was actually 9. In truth, Microsoft purposefully used 10 as the version number to highlight that this is not just the next version, but a new generation.
What has changed in Windows 10?
First and foremost the Start Menu has made a return but looks quite different from its previous design. Think of Gandalf the Grey from Lord of the Rings coming back as Gandalf the White and you will understand where I'm coming from. Yes it acts the same but it looks slightly different and has some new tricks up its sleeve.
The main features…
The integration of Live Tiles directly into the Start Menu. For those of you who enjoy the Live Tiles and seeing weather information, news articles, unread mail and so forth you can now continue to enjoy that experience. Windows 10 gives you the flexibility of using either the redesigned Start Menu or the Windows 8/8.1 Start Screen (this is now optional).
Microsoft have also included the ability to change the interface mechanism dynamically depending on your device choice, so if a Touchscreen interface is detected it will use the Start Screen, and if a keyboard and mouse are detected it will utilise the Start Menu system, all while giving you the flexibility at each step so your choice is still adhered to.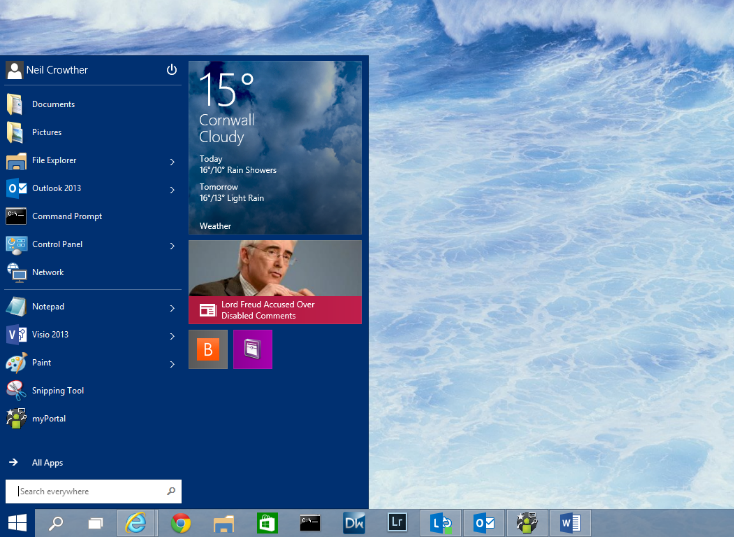 And then there's the full-screen apps – something that was, in my opinion, a painful implementation in Windows 8 which improved to a degree in 8.1. This has now been rethought in Windows 10, if you select the Start Menu as your chosen interface then the apps are now windowed (much like any other Windows application), and if using a touchscreen the apps will still be full-screen and allow the swiping gestures as previously seen in Windows 8. The move is a welcomed one by all accounts and I for one now have no complaints with this implementation. All the apps that I have tried so far are supported in 'Windowed' mode.
Just in case, anyone is wondering, the Charms bar is not available in the non-touch interface. There is now a simple triple-dot button on the main menu bar to gain access to the sharing and app commands options usually seen in the Charms bar.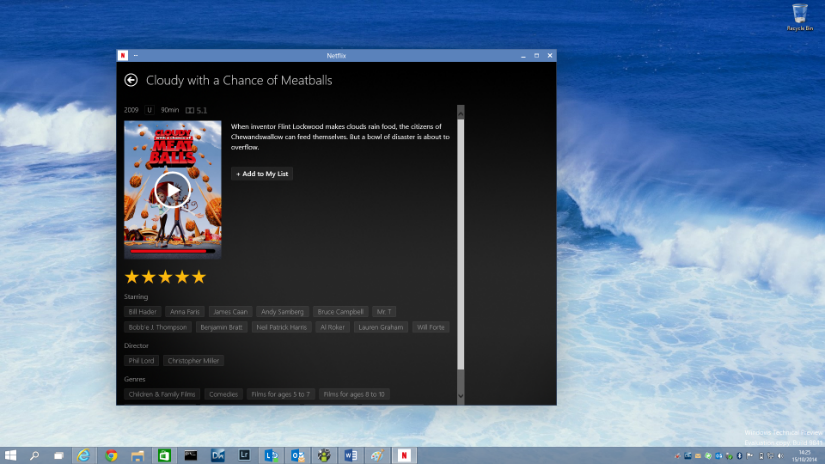 "Snap", the quick window resize tool first introduced in Windows 7, has now been enhanced further allowing you to effectively snap 4 windows per screen – simply drag your window to the corner of the screen to utilise a ¼ screen size window.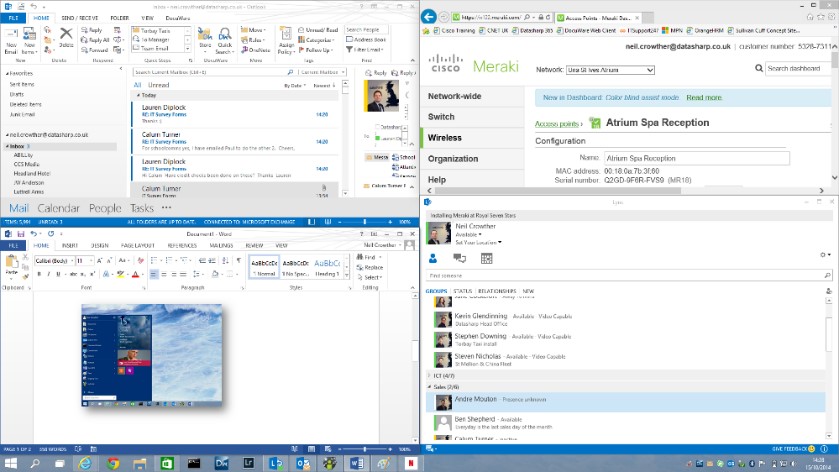 Quick-Tip: The keyboard Shortcut for 'Snapping' is to hold the Windows Key and use the cursor keys, which will reposition the window according to your direction, this is most handy with working with 3 monitors where there is no barrier to drag your window against!
Windows 10 introduces "Virtual Desktops"
You have your applications laid out in such a way it allows you to work significantly more effectively but what happens when you need to open more applications and you don't want to disrupt your current layout? Welcome to "Virtual Desktops", a technology seen in Linux beforehand and now finally brought to Windows!
"Virtual Desktops" is accessed by clicking either "Task View" or the Windows + Tab key combination. This allows you to view all of your available desktops or the ability to create new ones. You can flick between them using the same mechanism without having to resize or shuffle your applications around. It's not the most intuitive of implementations but as a tool for Power-Users it certainly has its place alongside Powershell (Version 5.0 as of Windows 10) and other administrative tools. The downside, however, is that it may make justification of 3 or 4 monitor setups a bit harder for some of us!

Along with these mainstream changes there are quite a few little tweaks that have also occurred such as the bevels of the application windows have been reduced, command-prompt has been updated to better support copy/paste, line-wrapping, resize, improved keyboard operations and now transparency, although it would be best to note that if you change the opacity considerably just make sure you don't have a psychedelic wallpaper as reading will NOT be easy! These changes may seem minor but they contribute to an overall fresh and dynamic feeling.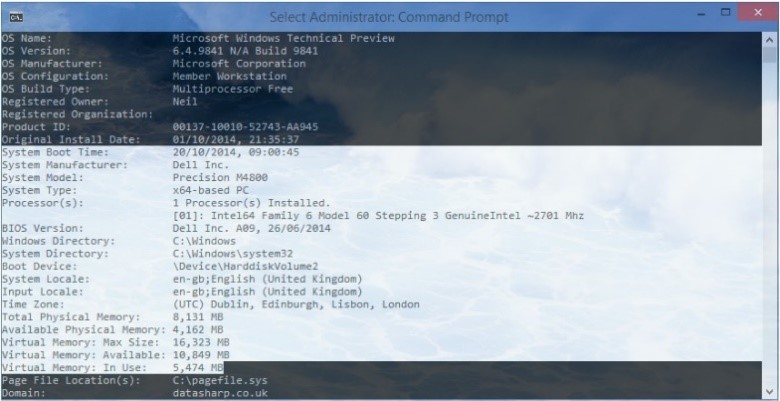 Changes for Enterprise?
On the enterprise side of things there are more under the hood changes such as management of Windows devices via MDM, volume-licensing management of the Windows Store meaning your company would have a bespoke view of the Windows Store and what the users are entitled to be able to see, as well as remote management of upgrades so future OS upgrades can be performed from a central location in more of a Windows Update'esq manner.
My Final Thoughts on Windows 10
Before you consider signing-up to the Technical Preview there are a few things you should note:
Firstly, that this is a Technical Preview and is in no way ready for production use if you don't have a fall-back plan. I have experienced graphical glitches which I believe are hybrid-graphics related, problems with my gravitational sensor driver not working and also small issues with software compatibility so be realistic about how this might affect your productivity before you engage further.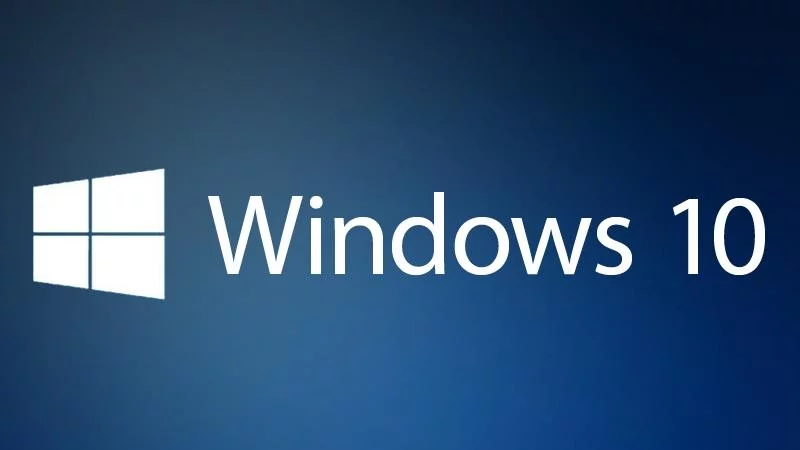 Aside from the above, the platform has been fantastic to use and without a doubt is my favourite revision of windows so far. Microsoft have also stated that this is incomplete and merely an image of what they are working towards, so things could drastically change before we reach "Release To Manufacturing" stage, so it's definitely something to keep an eye on within the tech world.